What does Ylvis say?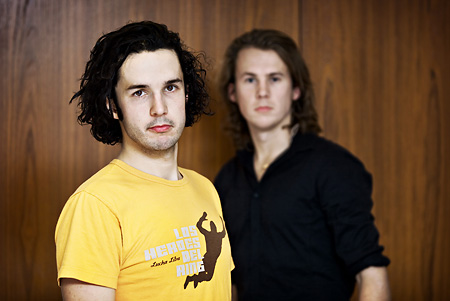 We have all heard of them. The two men who asked the question that no one has ever dared to ask: "What does the fox say?" Back in September, the then-enigmatic duo Ylvis uploaded their song, "The Fox (What Does the Fox Say?)," to YouTube, in an attempt to answer the unanswerable. Is it "gering-ding-ding-ding-dingeringeding" or "fraka-kaka-kaka-kaka-kow"? We may never know. Within days, the video had amassed millions of views—the view count is now almost at a whopping 200 million. Hitting its peak at a three-week number six spot on the Billboard Hot 100, it is the highest-ranked song by a Norwegian artist since A-ha's infamous "Take on Me," released in 1985. Perhaps this just goes to show the connection audiences feel with the song; who hasn't wondered what sound a fox makes? No one? Oh…
With such massive success coming from a single single (a-ha!), many have wondered where they could go from here. It seems unlikely that the previously unknown Ylvis, now signed onto Warner Music, will ever produce a song asking a fundamental question of the universe that will incite such mania across the globe, but that's not they were intending to do, anyway. They will continue to do what they've always done—be some of the most popular comedians in Norway.
Ylvis is a comedy group composed of two brothers, Bård and Vegard Ylvisåker. Together, they provide Norwegian audiences with comedic stunts during I kveld med Ylvis (Tonight with Ylvis), a popular talk show now in its third season. Such stunts include the famous "Intelevator" prank, where the duo aggravates passengers of a supposedly voice-activated elevator by misinterpreting their requests, mocking their very being or singing impromptu songs to them from a separate room. One of their more brilliant jokes is the "Radio Taxi," in which a cab's radio plays improvised songs (by the brothers) tailored to the passenger, putting him/her into a state of utter bewilderment and awe.
Funnily enough, "The Fox" was made simply as an attempt to promote this talk show. Over the years, Ylvis has actually released several songs, all promoting I kveld med Ylvis, each one more brilliant than the next. In fact, I'd argue that many of them are more hilarious than their hit single.
The brothers have stated that "The Fox" was written as a result of "a genuine wonder of what the fox says, because we didn't know," but their curiosity seems endless. One of their most hilarious songs, "Stonehenge," poses another question: "what's the meaning of Stonehenge?" And truly, what is the meaning of Stonehenge? Is it a massive granite birthday cake or a prison far too easy to escape? These musings are interspersed with utter nonsense: "What car do you drive? / Drive a Civic, drive a Civic, drive a Civic." It's all ridiculously hilarious. The dramatic introduction to the song, complete with somber piano and Vegard crooning—"my life is so successful, I've got everything a man could ever need / I've got a thousand dollar haircut and I've even got a talk show on TV"—sets the mood. He goes on to passionately question the purpose of the Neolithic monument: "I know I should be happy, but instead / There's a question I can't get out of my head / What's the meaning of Stonehenge?" Fantastic.
Their variety of musical styles adds to their comedic charm, and alongside the electro-house vibe of "The Fox" and the rock balladry of "Stonehenge" is the Broadway-influenced "Someone Like Me." This brilliant tune, which is a perfect imitation of the kind of song Leonard Bernstein would compose, follows a main character who cannot find a romantic partner. Why? Because nobody seems to share his love of dubstep.  And yes, every mention of dubstep devastates the musical score, replacing it with the manic wub-wub bass of dub. It's quite hilarious, especially when he finds the woman of his dreams—another dubstep aficionado.
Finally, there's "Jan Egeland," a song that praises one of Norway's most prominent UN delegates. It praises his Oslo Treaty Plan ("oh my god, what a plan!"), his ability to stop mad dictators with guns, and his beautiful body (buttocks included). Remember, "when there's war and all is hell, send in Jan Egeland."
Contrary to popular belief, "The Fox" is not the Ylvisåker brothers' only work. Nor is it their best. They have been in the comedy business for several years now, and after hitting their supposed peak, they're just going to keep on at it. In fact, they have recently released another piece of comedic brilliance, "Massachusetts," a song praising the "14th biggest state." As they put it, "forget New York and California, there's a better place, now close your eyes." That would be Massachusetts, "the greatest place on Earth." Despite some doubtful facts—since when is MA the home of Nelson Mandela?—the song shows, yet again, that they are the funniest Norwegians in the world today. Then again, there aren't too many funny Norwegians.
Source: wikipedia.org
Leave a Comment