Talon Tunes: New Music
Can you believe it's already April? In case you've missed the best hits of 2015 so far, we've got you covered. Follow this link for a Spotify playlist on the go!
Maia Boakye (12th): Stronger by Clean Bandit. I love the beat of this song, it always gets me in a good mood.
Jane Hoyt (10th): Uptown Funk by Mark Ronson ft. Bruno Mars. This song is like a new Call Me Maybe. You dread hearing it at the beginning, but by the time the lyrics start, you know them all.
Laura Schivartche (12th): Go All Night by Gorgon City feat. Jennifer Hudson. Listening to this song is a great way to take a study break. It's what I'll nod my head and shake my booty to.
Rafael Regis (12th): Topical, complex, powerful, sensitive and beautiful, Kendrick Lamar's new album To Pimp a Butterfly is amazing throughout. The first song Wesley's Theory sets the tone for dark social criticism. This is a mature Kendrick compared to his past albums; in the midst of self-praising rappers, Lamar stands out by focusing on the society he grew up in, the one he sees today, and the one he wants to live in, all followed by a compelling and frankly mind-blowing mixture of a 70s R&B, Soul, and Jazz. Just stop whatever you're doing and listen to it, even if you don't like rap. This feels different, and it's definitely worth a listen.
Shane Hardwicke: Into the Mystic by Van Morrison (Mr. Hardwicke's an old soul). This is the last song I want to hear before I my heart stops pumping oxygen to my brain. This song transports me to my happy place.
Mr. Berg: Lake Song by The Decemberists is a pretty little ditty. Typically literate and tuneful.
Mr. Daniel: I do like Angelique Kidjo's Bomba remix. She's an amazing singer from Benin who speaks eight languages. Her music usually makes me happy and helps a morning of house chores pass quickly.
MC Otani (12th): Realiti by Grimes: Realiti was probably the best thing that happened this March. While still featuring her signature glitchy beats and unique voice, this new song sounds quite different from Grimes' latest album Visions, which gets me super excited for her next LP.
Kevin Bengtsson (Class of 2014): The indie folk god is back! Taken from Sufjan Stevens' new album Carrie & Lowell, Should Have Known Better is a gorgeously delicate piece of music and a melancholy farewell to his mother, Carrie, who passed away in 2012. She was largely absent from his  childhood as she suffered from addiction and substance abuse, which makes listening to Stevens' conflicted feelings through his quivering voice absolutely heartbreaking.
Gabriel Civita (11th): It's been less than a week since The XX producer Jamie Smith announced he'll be releasing an album (under the pseudonym Jamie xx) and I'm already excited. He's the man behind one of my favorite tracks (link) from 2014 and I can't wait to listen to what he has in store for us this year. Loud Places [ft. Romy] is taken from Jamie's upcoming album, In Colour.
Graded musician of the month: Pablo Saller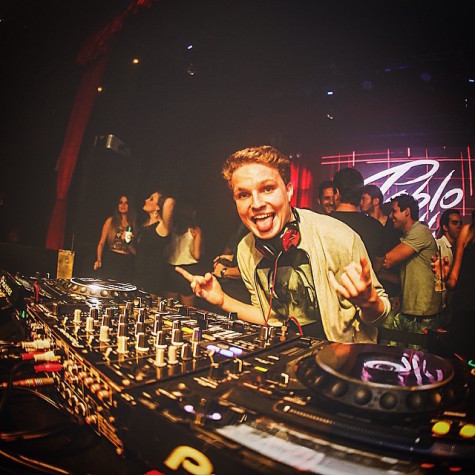 Check out his latest set: Saller Sounds #007
A love for music has been present in me since birth. With my father and brothers as my main influences, music was first introduced to me in the form of Rock. After several years, as the music company adapted and evolved, I was slowly introduced to electronic music. Starting from Dance and Pop, I eventually arrived to my true love, House. Whatever form of it, whether Progressive, Electro, or Deep, is my drug. This is why I DJ.
Leave a Comment