Cricketing intercultural competence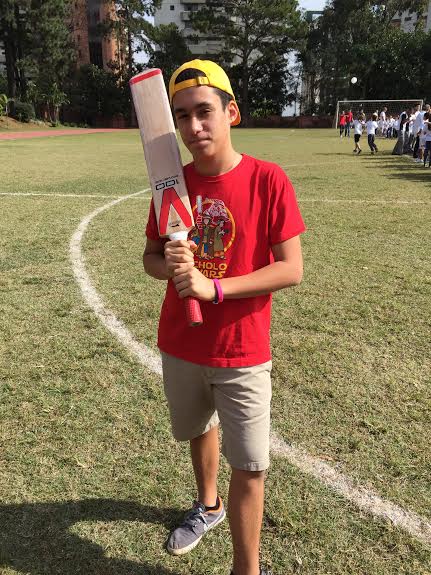 According to a portion of its mission statement, Graded is responsible for "fostering intercultural competence, and empowering students to become engaged, ethical citizens in a dynamic world." The mission statement comes up time and time again – it shows up in every classroom around campus, teachers always stress its importance, and it is referred to in nearly every assembly.
Graded's mission statement has inspired many students to found clubs, participate in MUN conferences, and, ultimately, make friends from different cultures. Considering this, the creation of Graded's Cricket Club (GCC) is to be commended for fostering intercultural competence. Meetings are held Thursdays after-school, and cover the fundamentals of cricket, such as throwing, batting, and fielding.
The club was founded this year by two of my peers: Francisco Morandi from Venezuela and Aman Verma from India. There are 11 members in the club, and they work with professional equipment, some of which was shipped from the United States, and some which was donated by the São Paulo Cricket Club.
The club has very clearly brought Graded's Mission Statement into practice. A club founded by a Venezuelan and an Indian in Brazil, and in an international school setting. In addition, the advisor of the club, Mr. Smith, comes from Australia where the sport is very popular. The mission statement has indeed met concrete validity: different cultures have come together in a friendly environment to promote relationships between individuals from different countries.
The Talon interviewed Francisco Morandi to learn more behind his idea to create the GCC:
How do you feel about being Venezuelan and having founded a cricket club in Brazil, and in an American School?
I honestly feel proud about coming from a non-cricketing country and having a passion for a sport that isn't from my country. I also feel proud for being able to do this in a school that would accept someone from a non-cricketing country to create a club. So, I just find it interesting, and I feel very proud of my work.
How successfully have you fostered intercultural competence?
Well, I believe we foster intercultural competence quite well as we have people from over six nations in the cricket club, and only two of them come from cricketing countries. The other nations, such as the United States, Brazil, Venezuela, are countries where the sport isn't very famous. Our team as a whole fosters intercultural competence.
How did you learn about cricket?
Actually, my sister's boyfriend introduced me to the sport for the first time. After that, I started playing with my co-leader, Aman, after school and during recess. I got hooked on it and started practicing seriously.
How did you have the idea to found the club?
Honestly, it's just something I am really passionate about. I played cricket in the United States for a couple of weeks and that's when I thought Graded should have a cricket team. It's a fun sport that anyone can play. With passion and determination I achieved my goal!
How does it feel by being part of the leadership team of this activity alongside Mr. Smith and Aman, who come from cricketing countries?
I'm humble about it. It's kind of daunting to be the person from a non-cricketing country to found the GCC and to be alongside two people that are from cricketing countries. Still, I'm glad they helped me out because they also share a passion for the sport. It's interesting for me to be able to work with them.
What valuable experience have you received from the club?
The most valuable experience, up until now, is that if you put your mind to something, you can do it. I thought that the GCC wouldn't be successful since we're in Brazil and not many people are familiar with the sport here. But we have a full team of 11 players, and in October we will have our first game against St. Paul's. If you follow your dreams and are persistent, you can accomplish them.
Francisco and Aman have shown that culture is not a barrier for creating friendships. Ultimately, the power to foster intercultural competence is in our hands.
Leave a Comment