Facilitating Poetry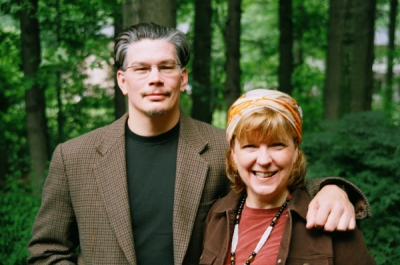 Throughout the past few weeks, Graded was fortunate enough to receive a visit from two award-winning poets, Michael Salinger and Sara Holbrook. The Outspoken Literacy Consultants visited several English classes throughout every grade level and taught us how to write better poems, while simultaneously showing us what being a poet is like.
Graded's first introduction to the duo occurred during the October 31st assembly. Here, we learned about Michael's and Sara's careers as poets. Michael enlightened us on how he used to be a coach for the Cleveland Poetry Slam team that represented the city at the National Poetry Slam Competition. He also founded the teen writing and performance program at Cleveland's Playhouse Square Foundation. Sara talked to us about her experiences as an educator and a writer in fields such as law, public housing, and education. Both of them have written over dozens of award-winning poetry books both for adults and young people, as well as a few professional books for teachers. Among their most famous books are I Never Said I Wasn't Difficult, written by Sara, and Outspoken!: How to Improve Writing and Speaking Skills Through Poetry Performance, authored by both of them.
Michael and Sara didn't come to Graded merely to show us their poems, but they came to our English classes and introduced us to fascinating workshops where we quickly learned how to write our own. They began by asking us very informally whether or not we had any questions—emphasising how we could feel free to ask any questions we would like. Next, they proceeded to talk to us about their writing process, where we learned that writing poems isn't as difficult as it seems. As Michael taught us, all you need to do is a list of a few words that describe and/or represent whatever it is you want to write about and then simply weave them together.
As freshman Paula Fernandez puts it, "After choosing one specific moment, the writing is actually not very complex for the first draft. Get straight to the point, and don't be a perfectionist the first time around. Once draft one is done, it is time to make the poem good." This was something Michael and Sara both stressed vehemently. According to Michael, all of his poems were revised at least 20 times before they were published, and none of them were even remotely ready after the first draft. Michael also talked to us about rhymes, telling us that rhymes should only come after a handful of revisions in order for them to work properly. He also stressed that rhymes are not a fundamental part of a poem.
The most important lesson of all, though, was perhaps the footprint that Michael and Sara left about the idea of being a poet. As they stated at the beginning of their assembly, "Your parents won't be too happy to hear you want to be a poet," which, unfortunately, is a sad reality for many people who face pressures regarding the career paths they choose. However, we learned that you can, in fact, be a poet, and in the end, why shouldn't you? If you're like them and express yourself by writing multiple verses, the idea shouldn't be so foreign to you.
Sources: outspokenlit.com
Leave a Comment