Kanye West: Our Generation's Greatest Artist
How one musician separates himself from a generation filled with talent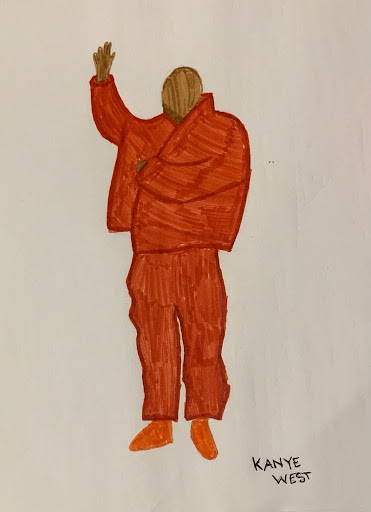 After four sold-out listening parties, multiple false release dates, and countless fans left furious, Kanye West finally released his long-awaited tenth studio album, Donda, on August 29th. The record has left everybody, including Graded students, discussing not only how good the project was, but also, how good Kanye is. After having discussions with classmates, I decided to make an effort to prove why Kanye is one of if not the greatest artists of our generation; my argument is as follows.
Influence, sales, and success are three major components of "greatness". Regardless of the criteria, Kanye West is one of few to be able to hit the mark in full in terms of classifying himself as one of the all-time greats. For me, it is inarguable that Kanye is the textbook definition of a successful artist, but how did he get so successful?  Initially, West found his way onto the mainstream music scene back in 2004 with his debut album The College Dropout and has been able to maintain major relevance ever since. Whether it is his arrogant attitude, wild antics, or even just his seeming inability to fail, the general public will always find a way to criticize him. However, none of the knocks used against him are ever rooted in his lack of artistic ability.
At this point, denying Kanye's artistic genius seems near impossible, and hopefully, through this article, I will be able to enlighten you on why the title of our generation's greatest artist belongs to the man himself. 
The main reason why Kanye deserves this title is because of how well he fits the criteria used to determine a great artist. As stated in the opening, for me there are three main components that are used to establish an artist's greatness: influence, sales, and success. While for some of the fields he may not be the clear-cut best, his overall consistency across the board gives him an advantage over the competition. Firstly,  I would say Kanye is deemed a great artist due to the great influence he's had on the modern-day music industry. As stated further along the article, many current artists (even outside of rap) acknowledge Kanye to be a major influence on their music and artistic style. A particular album of his that was extremely influential for the music industry is his 2008 classic 808s & Heartbreak.
The album made the topics of loneliness and heartbreak somewhat fashionable and popular amongst artists.  Nowadays, most R&B artists find themselves attempting to recreate the energy Kanye gave off in that album by unleashing their deepest feelings and opening themselves up to the audience. This vulnerability seen in classic songs such as Heartless and Welcome To Heartbreak is what made 808's his most influential album. The album created a wave that to this day inspires many artists in the music scene. What Kanye did with this project was make it "cool" for rap and R&B artists to open up and show deeper emotions in their own music.
Kanye's influence also goes way beyond one album as some of the biggest artists not only in rap but in all of music see him as a mentor. A variety of artists, ranging from Adele to Travis Scott, have previously expressed how their own music had been heavily influenced by Kanye's. 
In addition to influence, Kanye has an excellent track record when it comes to sales. According to the Recording Industry Association of America, Kanye has seven platinum albums (albums that sold 1 million+ units) so far in his career, six of them being solo albums. He has amassed over 21 million album sales, while also surpassing 100 million downloads digitally. While he may not have as many sales as other rappers such as Drake and Eminem, I would say he definitely has enough to tick off the sales aspect of the greatness criteria.
Lastly is what I think is the most important aspect to determine an artist's greatness: critical success. Regardless of how many sales an artist has, if he does not provide good music he won't have any influence or legacy.
Irrespective of which perspective you may look at this from, ratings or awards, Kanye fully checks both boxes off. His 2010 classic My Beautiful Dark Twisted Fantasy achieved a perfect 10 out of 10 score from Pitchfork, the self-proclaimed "most trusted voice in music". According to Pitchfork's album ratings, Kanye has maintained an average of 8.4 out of 10 through his discography which is already impressive, but even more so when you consider he has a total of eleven albums.
Plenty of articles like to discuss My Beautiful Dark Twisted Fantasy as the greatest rap album of all time and some even consider it the greatest overall album of the past century. While this alone signifies his greatness, it is the other albums that furthermore solidify it. Not only does he have 5 other albums (Yeezus, 808s and Heartbreak, Graduation, Late Registration, and The College Dropout) in Rolling Stone's "500 greatest albums of all time" but none of his projects are critically bad, with all of them receiving above a 7 on Pitchfork's scoring system.
Because of all of this, I would say Kanye's genius is indisputable, regardless if you love him or hate him. Every box is ticked and he clearly asserts himself as one of if not the greatest artist of his generation. While some may dispute the claim due to his wild antics it's important to distinguish between him and his music. He defines the term greatness in music and if we're being real… I don't think there's anybody else who really comes close.
Works Cited
Adjei-Kontoh, by: Hubert, et al. "Kanye West." Pitchfork, pitchfork.com/artists/4639-kanye-west/.
"Home." RIAA, www.riaa.com/.
Rolling Stone. "The 500 Greatest Albums of All Time." Rolling Stone, Rolling Stone, 30 Nov. 2020, www.rollingstone.com/music/music-lists/best-albums-of-all-time-1062063/. 
Leave a Comment