The Reunion Between Lionel Messi and Neymar Júnior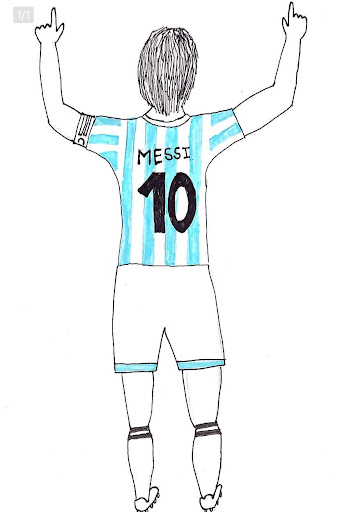 Since Lionel Messi was a kid, his ultimate goal was to wear the Barcelona jersey on the field. So, at the age of thirteen, he joined the world-renowned Barcelona Academy with an ample smile on his face. As he proudly wore the F.C.B. logo for two decades, his agility granted him the nickname "La Pulga," Spanish for 'the flea.' Messi led an impeccable career, racking up 672 goals, 305 assists, 35 trophies, and 6 Ballon d'Or, the most prestigious individual award a football player can receive. His legacy with Barcelona has arguably granted him the title of greatest player of all-time.
Now that the worldwide pandemic has changed the football scene, Messi is about to not only turn a new leaf but a whole new chapter of his life as he prepares to join Paris Saint-Germain Football Club, considered by many as the most outstanding soccer club in human history due to their many star players. Messi has left a legacy during his years playing for Barcelona that will be recollected for centuries, and that is considered by many as unrepeatable. Therefore, Messi and his fans are enthusiastic, imagining that he will soon be reunited with previous teammates like Neymar da Silva Santos Júnior, and face old rivals as the next chapter of his life unfolds. 
Messi's past teammate and Barcelona legend Neymar Júnior commented on Messi's photo announcing him going to France, saying: "I told you that we would play together again." As fans listened to Neymar's words, their hearts began pirouetting. The idea of not one but two legends playing side by side brings excitement to the football world, as football fans can once again experience the magic of the symphony orchestrated by two of the best 'soccer maestros' in the world: Lionel Messi and Neymar Júnior. Another soccer star who is eager to meet them is Kylian Mbappé. The son of a Cameroonian and Algerian with roots extending to Nigeria, this French player is one of the best young footballers; in fact, many believe that Mbappé will carry on Messi's legacy Mbappé is already a standout among the younger generation of footballers. 
As all good stories have a bittersweet twist, it is prudent to mention that although Messi's right-hand men will be by his side, he will also be teaming up with one of his greatest rivals of all time: Real Madrid legend Sergio Ramos. Messi and Ramos have a long, vinegary history together, given that their teams were major rivals, and they competed against each other numerous times. For major Messi fans, the idea of him playing against Ramos makes stomachs churn, but at the same time, fans know it will be interesting to see how the four of them blend in the field. It will be like adding cayenne pepper to a perfect chocolate chip cookie recipe. Let's see what new flavor that will bring. 
Paris Saint-Germain's new roster is filled with stars, and they will leave a mark as one of the biggest franchises in football history in terms of star power. However, as Messi faces significant changes, the spectators will also need to adapt as he no longer dons the iconic jersey number 10 and goes back to his roots, taking on the first number he wore: 30. After watching Messi's tale unfold for more than ten years, fans confess that it feels weird to think of Messi as a 30, but after all, it is the magic in the field that counts. 
Be it #30 or #10, Messi, "La Pulga," or whatever fans prefer to call him, has a legacy with Barcelona that will forever be remembered. Fans from all corners of the world will speak of him as one of the greatest players in human history, as he has taken the sport to a whole new level. The bottom line is, fans are already cheering for what may very well become the greatest era of soccer in history once these four are together on the field. Allez-y, Messi! 
Sources: ESPN, Wikipedia, Official FC Barcelona Website
Leave a Comment