The David Bowie Experience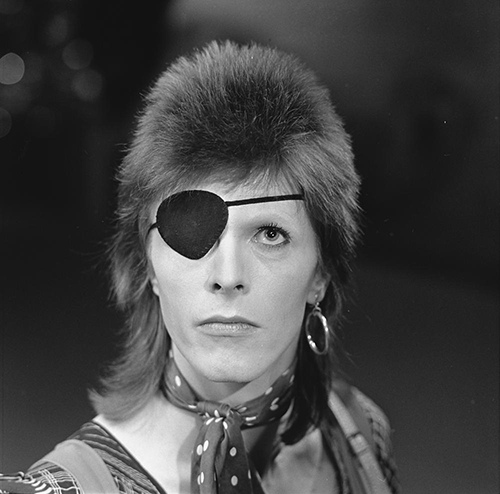 The Museu de Imagem e Som (MIS) is on a roll. After a flawless exhibition on Stanley Kubrick and his works, with stunning set ups, decorations, and production, MIS is now showcasing V&A's David Bowie Exposition from January 31st until April 20th. It doesn't matter if you are the dedicated Ziggy enthusiast or someone who doesn't really know that much about him (like me), this exhibit is a must.
 With an entrance fee of only R$10 (R$5 if you show them your Graded ID card or FREE if you go on Tuesday), the expo starts at the top of a staircase, where you are given a pair of headphones and controller, providing you with a full audiovisual experience. You are then led into a small, dark tunnel with neon strips of light illuminating the way as your headphones play "Space Oddity," creating an almost hypnotic effect as you leave reality and step into Ziggy Stardust's universe. A mannequin dressed in Bowie's famous striped bodysuit (the black and white one) stands on the very end of the tunnel. The idea that he once wore it (it's the original suit) feels surreal. It's huge.
 Ornamented with massive prints of original tour posters, photographs, and paintings (yes, besides acting, singing, composing and designing, he was a painter as well), the exposition beautifully leads you through different phases of his career. It begins with the Space Oddity phase before taking you to the Diamond Dogs tour, his works with film, and his stay in Berlin. Finally, it ends with a small section dedicated to his newest album, released in 2013, The Next Day. Glass cases showcase an immense variety of items from Bowie's collection of rarities, including his handwritten notes, brainstorms for lyrics and transcriptions of sheet music–yes, touched by Bowie's very hands, perhaps even drooled and wept over as well. Other novelty items include original props used in his music videos and movies, such as the koto used in "Moss Garden" and Jareth's crystal ball (from "Labyrinth") and less interesting knickknacks such as his house keys in Berlin. Behind glass walls stand rows of mannequins dressed in his tour costumes, featuring an array of designers such as Alexander McQueen, Ola Hudson, Freddi Buretti, Issey Miyaki, and David Bowie himself. It's a fashion show, an art gallery, a movie exhibit, a photography expo and a musical experience all in one.
 My favorite part of the exhibit is a small replica of the "Where Are We Now" clip which stands in a hidden corner of a room dedicated to The Next Day. Bowie's black and white face is projected onto the heads of two teddy bears, and as you walk closer to them, the headphones play "Where Are We Now," providing a live version of the clip. It made my day.
 Although the presentation is not as lavish as the Kubrick exhibit (with its mini Overlook Hotel corridors and rooms and a replica of the Korova Milk Bar), the David Bowie exposition presents a rich and thorough overview on his career. The dazzling set-ups and displays take visitors on a head-first plunge into his timeless universe. Trust me, those R$5 are nothing compared to what this exposition has to offer. With an expo of this degree touring around the world, David Bowie must be drowning in glory, throwing up golden glitter, and shooting beams of sunlight through his nostrils. I know I would.
Leave a Comment