The Underground World of E-Sports
In recent years, professional video gaming has grown exponentially without any sign of slowing down. From its start in the 70s, as a competitive game of Spacewar at Stanford University, to today's sheer scale of monetization, attendance, and competitive level of professionalism, e-sports have grown a tremendous amount and have recently started to attract mainstream media.
This year, however, e-sports took a great step forward when 16-year-old Kyle "Bugha" Giersdorf acquired a staggering 3 million dollars for his victory in the Fortnite World Cup. The other players also profited immensely as all one hundred of them were guaranteed USD$50,000. Similarly, the tournament itself generated a UDS$30 million prize pool, matching that of the FIFA Women's World Cup. The record, however, is still the monstrous USD$32 million at The International 2019, funded by the contributions of sponsors and its participants. 
In addition to e-sport's astounding profits, it's global viewership numbers are surprising as well. The phenomenon has transitioned from being played in bars and homes, where viewership was minimal, to nowadays surpassing the most significant sports events in the world. The 2018 League of Legends World final, played in the Munhak Stadium in South Korea,  reached a peak live viewership of double that year's Super Bowl. These numbers represent e-sports, a rapidly growing entertainment platform, as a direct contender with other mainstream sports.
Growing alongside its popularity is e-sports' credibility. Today, similar to the NFL and NBA, e-sports leagues have dedicated franchises and league specific teams, 6-figure salaries, and weekly games and playoffs schedule. Also, e-sports professionals went from having their professions treated as hobbies, to receiving team facilities, P1 Visas, Nutritionists, and mental health therapists.
These numbers, as studied, do not show any evidence of decline. Viewership, infrastructure stability, and profits are expected to increase by 14.4 percent by 2021.  With investments from the NBA and NFL franchise teams like the Dallas Cowboys and the publicity from world-renowned celebrities like Drake, the future of e-sports can only be bright. Research has suggested that e-sports could potentially overthrow all other sports for the top spot in sporting entertainment. Even though e-sports on paper presents limited flaws, for the changing world, the same cannot be said when further researched. Since its start, e-sports has only appealed to a specific audience, generating 'the Nerd phenomenon.' This creates a challenge for marketing companies who are concerned about e-sports' "instability." Furthermore, often e-sports franchisees who own large group of video games die out after a couple of years. Consequently, this generates a problem for investors who struggle to dictate the longevity of the game and whether more money should be put in.
e-sports is a rapidly growing global industry that will continue to rise. Despite its problems, its staggering numbers prove that it is on its way to becoming a part of everyone's everyday life. Currently, Graded has no involvement with e-sports of any kind. But, there are many people who play video games ranging from 6th graders all the way to the seniors, and one day, it might become part of our everyday entertainment.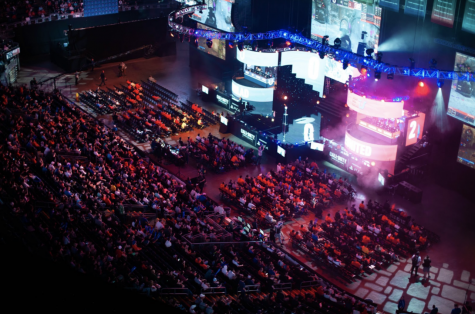 Sources: InfluencerMarketing, Dota-2-prize-tracker, Engadget, Dexerto, Esports-charts, Votion
Leave a Comment