Too Quick to Judge
Hang on for a minute...we're trying to find some more stories you might like.
It is true that our president's belligerent attitude makes it easy for both well-intentioned yet misinformed environmentalists and foreign leaders with hidden economic and political agendas to take a harsh stance against Brazil due to the current situation in the Amazon. However, many, if not most, of the attacks being levied on the country are premature and unjustified, as are the threats of economic sanctions against Brazil, which were discussed during the G7 meeting held in France on August 24 to 26. After all, when Trump announced in June of 2017 that he would withdraw the U.S. from the Paris Climate Agreement, a decidedly more concrete action with potentially significant global impact, the reactions ranged from dismay to moral condemnation; no threats were made.
The burning of the Amazon rainforest  is not only an environmental crisis, but also a diplomatic and public relations disaster, one that Bolsonaro could have handled much better. Bolsonaro's Trump-like tweets insulting French President Emmanuel Macron's wife and France's inability to prevent the burning of Paris' Notre Dame Cathedral have only served to escalate the tensions between the two nations. Instead, the President should have issued a swift and emphatic statement assuring the world that Brazil considers the Amazon fires a priority and vowing to do everything in his power to combat it. He should have also graciously welcomed any help, rather than reject the G7 $22 million aid offer, insufficient as it was. However, despite Bolsonaro's crude way with words, there is truth in his assertion that the Amazon rainforest, 60% of which is contained within the borders of Brazil, does not belong to the world nor is, in Bolsonaro's words, a "no-man's land."
Additionally, the fact that Bolsonaro is not properly dealing with the ongoing situation does not mean Brazil is negligent or does not do more than its share to protect the environment. In fact, Brazil is the country with the greatest percentage – approximately 30% – of its territory designated as protected land.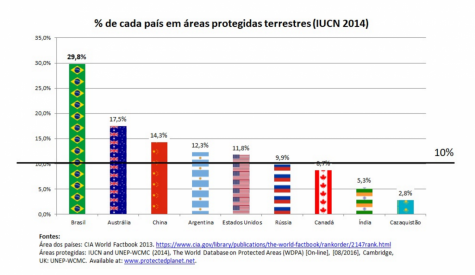 It does seem at best irrelevant and at worst opportunistic that Macron is using the tragedy in the Amazon to threaten the ratification of the EU–Mercosur trade agreement reached this past June at the G20 summit in Osaka, Japan. It is no secret that Macron is feeling the pressure to appease his country's agricultural lobby, which is evidently worried that the end of a longstanding protectionist policy will have a negative economic effect on the French farming industry. Moreover, Macron seems to be seizing on sensationalist headlines, misleading data, and old images, such as a photo of the Amazon burning that was circulated last week but was taken by a photographer who died in 2003, as Bolsonaro was quick to point out. 
A trade deal between the Mercosur countries – Argentina, Brazil, Paraguay, and Uruguay – and the European Union has been in the works for ten years, since it was first openly discussed at a summit in Rio de Janeiro in June of 1999. But for one reason or another it never moved forward, most likely out of concerns for the European farmers, who stand to face tough competition from Brazil, which currently has the highest agricultural yields in the world for important crops, such as soybean, corn, and sugarcane and is also the largest exporter of these commodities.
In any case, we are dealing with a real emergency that needs to be addressed effectively and immediately. In addition, the Brazilian government must go through with its promises to establish a task force to understand the causes of the devastating Amazon fires, as well as to establish acceptable guidelines for the prevention of deforestation and the preservation of the rainforest. That said, to blame Brazil for failing to protect the environment is not only unfair and rash, but it also serves no purpose. After all, when it comes to safeguarding our planet, we are all on the same side. 
Sources: Estadão, O Antagonista, New York Times, Folha de São Paulo, Revista Veja, Buenos Aires Times, CNN Europe, Folha de São Paulo