Who Truly was "The Last Great American Dynasty"?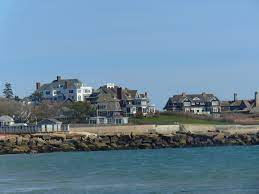 Last year, Taylor Swift fans – or more appropriately, Swifties – were blessed with two brand new, full-length albums: Folklore and Evermore, both of which fall into the confusing category of alternative rock folk-pop. These are incredibly significant to Swift and her fans alike, not only because these were the first masters she owned, but also because all the songs in these albums hold special meaning and tell a detailed story most listeners can relate to. In great contrast, a song that begs to be explained is the enigmatic "The Last Great American Dynasty".
"Rebekah rode up on the afternoon train, it was sunny"
The very first line of the song introduces the main character, Rebekah West Harkness, a real heiress who was also a composer, ballet mistress, and sculptor whose life presents several interesting anecdotes. Rebekah was born in 1915 to Allen and Rebekah West in St. Louis, Missouri. Her grandfather founded the St. Louis Trust Company, a large bank with great significance to the city, meaning that Rebekah was already born into money, leading her to be primarily raised by nannies. Harkness was apparently very popular in high school and just as mean- she and her friends nicknamed themselves "the b*tch pack" – a fact Swift brings up in her song. 
"Bill was the heir to the Standard Oil name, and money/ And the town said 'How did a middle class divorcée do it?'"
Rebekah's story really picks up in 1947, after she married her second husband William (Bill) Hale Harkness who, as mentioned in the song, was the heir to his father's enormous fortune made in the oil business. The Standard Oil company was one of the first huge corporations in the world; however, it was dissolved and branched into several smaller companies in 1911 as the supreme court in the US ruled its operations to be illegal. 
"They picked out a home and called it Holiday House"
Despite their legal woes, the large fortune allowed the Harkness family to purchase a lavish home in Rhode Island, which Rebekah and Bill nicknamed "Holiday House" after they moved in (for reference, the mansion reportedly has eight kitchens and 21 bathrooms). The pair were only married for seven years as Bill passed away due to a heart attack in 1954. At the time, Rebekah was quite the black sheep, and people began to theorize that she had somehow killed her husband, which Swift addresses by writing: "it must have been her fault his heart gave out". 
"There goes the most shameless woman this town has ever seen/ She had a marvelous time ruining everything" 
Harkness was quite wild and became the protagonist of all her relationships despite being raised to be a trophy wife. Some of her craziest antics include: spiking a punch bowl with laxatives at her sister's debutante ball, getting kicked out of a cruise for swimming nude and throwing plates at the orchestra, performing a striptease at a black-tie event, and filling her pool with Don Perignón and her fishbowl with scotch whiskey. Additionally, as mentioned by Swift, Rebekah was constantly in feuds with her neighbors due to her lavish parties, and once she even stole their family pet (which was actually said to be a cat, in contrast to the song's mention of a dog) and dyed its fur lime green. Unfortunately, her antics took an extremely dark turn as she apparently was very neglectful of her three children and simply had them as it was a societal expectation. She was quoted as saying she had such a big house with so many rooms so she would never see her children, and when her youngest daughter Edith struggled with mental health issues, Rebekah would publicly make jokes to mock her suffering – it truly is no surprise her children faced so much turmoil in their adult lives, struggling with both the law and their own mental health.
"And blew through the money on the boys and the ballet"
Here is where Rebekah Harkness left her legacy – she was always quite interested in the arts, particularly classical ballet. Rebekah was an extremely important matron of the Jeoffrey Ballet, a prestigious ballet company that still is fully functional in Chicago, Illinois. Her interest and large fortune also led her to work with one of the biggest names in dance, Jerome Robbins, who choreographed ballets such as Mistake Waltz and movies like West Side Story. However, these collaborations, unfortunately, don't have happy endings as no one is truly as fickle as Harkness, who withdrew all her funding from both mens' companies after they refused to perform her work or rename their institutions in her honor. But the pettiness doesn't stop there; Rebekah went on to form her own ballet company, the "Harkness Ballet", which was composed mainly of dancers she had poached from the aforementioned companies. Alas, her epic failure just goes to show that karma will eventually get to you because Rebekah is said to have spent today's equivalent of $86 million on the company only to have it go defunct 6 years later. 
"And losing on card game bets with Dalí"
Yep, you read that right – Harkness was a close friend of iconic surrealist artist Salvador Dalí. Whether they actually played cards or not is up for debate, but Rebekah's wild parties at Holiday House would often involve famous guests like Andy Warhol, J.D. Salinger and of course, Dalí himself. In 1965, Rebekah made a wild purchase from her friend Dalí – a $250,000 jewel encrusted cup named "The Chalice of Life". With this, we reach the end of Rebekah's story. In 1982, she passed away (aged 67) after a long battle with stomach cancer which was presumably caused as a result of her drug abuse. A large portion of her ashes were placed in The Chalice of Life and with her passing, the American culture of dynasties seemed to die off too. 
"Fifty years is a long time/ Holiday House sat quietly on that beach/ Free of women with madness/ Their men and bad habits, and then it was bought by me"
This line comes in towards the end of the song, and it offers a gigantic plot twist to listeners that couldn't possibly understand why Taylor Swift would feel the need to write a song about some occult historical figure. In 2013, Swift purchased Holiday House for an estimated price of 17.75 million US dollars, which sounds insane; however, it does happen to encompass 1,022 square feet and have a surrounding area of 5.2 acres. In the very last repetition of the chorus, Swift changes all pronouns referring to Harkness to refer to herself, seemingly making a reference to her Reputation era and her very large 4th of July party in 2016 which attracted the media's attention due to all the famous guests in attendance, including Gigi Hadid, Ryan Gosling, and a pregnant Blake Lively.
Moving back to 2021, Holiday House is still owned and often frequented by Swift, which also makes it a popular destination for fans, much to the mayor and locals' dismay. Taylor's song was a smash hit, reaching number 13 on the Billboard Top 100 within its peak. Rebekah is immortalized in her several published novels, as well as a detailed biography by Craig Unger entitled Blue Blood : How Rebekah Harkness, One of the Richest Women in the World, Destroyed a Great American Family. That said, if any Graded student somehow finds themselves in Watch Hill, Rhode Island, the Talon highly encourages you NOT to trespass on Swift's property; seriously, we can put money on the fact that Taylor would not appreciate it.
Sources: The Last Great American Dynasty by Taylor Swift, Wikipedia, St. Louis Magazine, Marie Claire Magazine, Factinate, Vogue, Revista L'Officiel, Billboard, HouseBeautiful, Elle, Wikimedia
Leave a Comment