The Families We Make Along the Way!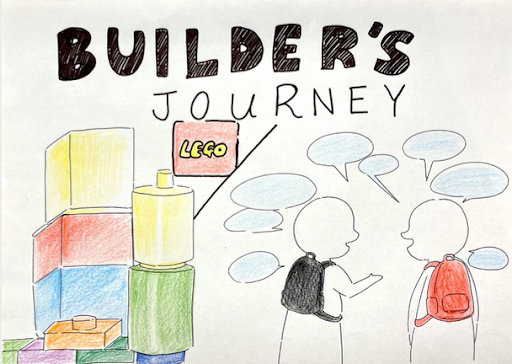 One by one, you start building bridges, towers, castles and other structures made of Lego bricks, all the while taking in the breathtaking views that accompany your experience here. But you are not alone. From the beginning, you are accompanied by your father, who helps teach you the basics of construction. The serene atmosphere makes you relaxed and excited for what comes next. What will the destination look like? Will you be visiting beaches, caves or mountains? This adventure will take you to many breathtaking sights and destinations, full of nature and wonder. Are you ready to embark on it? This is Lego Builder's Journey.
From the start, Lego Builder's Journey is extremely fun. Available on Steam, Apple Arcade and the Nintendo Switch, this Lego video game sees you embarking on your journey alongside your father. One day, when building sandcastles on the beach, your adventure begins. Filled to the brim with a serene ambience, Builder's Journey is perfect for unwinding and relaxing after a long day. In addition, the game is also gorgeous, and the Lego art style is realistic but remains in line with the signature look from the brand you might recognize from Lego Star Wars or Lego Marvel, resulting in a look that is jaw-dropping. The soundtrack is also highly immersive. Featuring serene piano chords, the notes bring you right into the experience as you build your constructions.
Featuring beautiful sights, Lego Builder's Journey transports you right into the world of Legos and creativity. Find your way through multiple obstacles, build campfires and pair up with your robot friend to solve many puzzles that will test your ingenuity.  Have you ever wondered how you can build a bridge using just 5 lego pieces?  Or how a river can open a new path to a different solution you didn't consider before? If you like to solve problems,  many surprises await in your journey. 
Finally, Builder's Journey is a game that's all about community. The journey you and your partner embark on together strengthens the bond between the both of you. This is memorable because it connects with the community we have here at Graded. I started my journey with my friends because of an after-school activity, a class we had together or a simple hello in the hallways. Everything around us can create these friendships, just like how a simple Lego brick can make a big difference in your construction or how playing with these bricks can bring people together and inspire conversation about their constructions. So the next time you eat lunch, why not eat with someone different? Or strike a conversation with someone you have never met before. They might become part of your family of friends. 
Leave a Comment