The Future of Graded Students
From Deadlines to Careers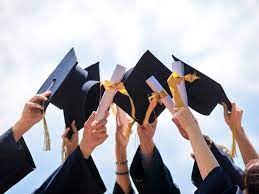 The Graded School of São Paulo teaches its students more than just academics, influencing them to pursue the core values of intellectual curiosity, perseverance, respect, integrity, and kindness. In the process, Graded builds a foundation from which students can thrive both in the present and the future. Each and every one of our peers who we see giggling in the halls or cramming for upcoming tests, are actually on a path to become very different people than who they are today; stepping  into a world previously reserved for parents, teachers, and other adults, Graded students begin a new chapter as they leave campus. One cannot help but question the nuances of maturing teeenagers delving into the real world of jobs and careers. As Graded Senior Maria Pia Hekma summarizes, "I can't imagine us as 'full-on' adults," and it is this idea that remains consistent amongst students. In order to understand the phenomenon Hekma describes, The Talon has set out to interview current students and recent alumni about their plans, illustrating the progression of Graded students into accomplished members of society. 
Preparing to leave for their next step, whether in college or elsewhere, Seniors are currently giving much thought about their immersion into the world of employment. The thought of who they might become in the future has been prominent. Seniors Naomi Rosenblatt and Julia Paula have been leaning towards a political science major in the United States, where they plan to ambitiously change the world. For Paula, this means she will focus her major in international relations, with the goal to one day work in the United Nations. Rosenblatt is still deciding how her impact on the world will be achieved; nonetheless, these two students will employ the learning foundations they gained both from Graded and from their life experiences to promising political careers. 
Other Seniors plan on a different career path. Felix Dumas intends to pursue a journalism and biology major in the US, using his "[love] for writing while also [working] with athletes" in a sports journalism career. Meanwhile, Valentina Arruda hopes to go to Europe to chase a marketing position, exploring her "[interests] in consumer behavior" that she developed in her IB economics class. 
Not unlike the current seniors, recent alumni have also been considering their futures, however, their next steps are approaching considerably sooner. Class of '21 alumnus, Manuela Menezes, for one, prepares to study business at the University of Notre Dame. Open to changing her major at university, Menezes will "explore the various sectors of the economy" before settling down in her up-and-coming position in society.
Instituting the values of intellectual curiosity, Graded forms students excited to explore different  occupations that may not necessarily be the most popular. For example, Senior Maria Pia Hekma will follow a path in the arts in Holland where she will "deepen her understanding of art" through "intellectual discussions" of the field in and out of art school. Hekma is less worried about her future job and college as much as she is about "producing pieces that are meaningful to at least someone in society."
As a more stable measure of how Graded students tend to develop in the professional world, our very own alumni have been solidifying their future roles. Class of 2018 alumnus, Olivia Belda, is currently a student at Brown University where she is majoring in biology and computer science, the first step towards her biotech career. 
Class of 2019 alumnus Carolina Laport has recently decided to follow a more "academically rigorous path," transferring from Sarah Lawrence College to Barnard College. There, she is majoring in anthropology, but is still "uncertain of what she wants to do in the future." Regardless, her plans to stay in New York remain true even after her transfer, just like her interest in a liberal arts education. Thus, it is fair to say that even though plans will change, students' current objectives illustrate the general course of their post-Graded lives. Differing from the US and European oriented students, class of 2019 alumnus, Gabriella Rechulski has opted to stay in Brazil, where she studies law and administration at Getulio Vargas. Apart from her future contribution as a lawyer, Reshulski is actively involved in a community service organization, helping students from underprivileged schools during the pandemic. 
The idea of our peers transforming from wandering teenagers into capable members of society seems so distant that the people we will become are hardly imaginable. But after developing academic and intellectual foundations at Graded and outside life experiences, are full of achievable objectives. The image of our peers as "full-on adults" should be one of ambitious intellectuals, utilizing our Graded values to build upon society: a visionary objective that is nonetheless achievable after our enriching programme at The Graded School. 
Leave a Comment