What Streaming Services Are Actually Worth Subscribing To?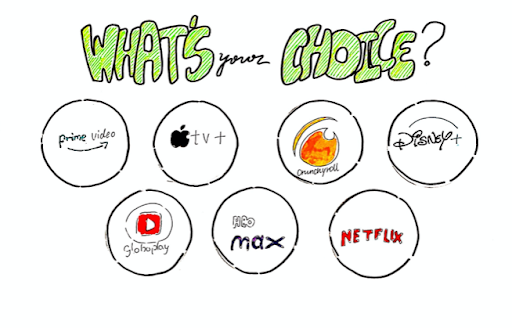 Sometimes, you just want to watch a specific movie, but when you go look for it, you realize that Netflix has removed it from its catalog and you wonder whether subscribing to new streaming services would be a good idea. Some people can't just subscribe to a new service because of one movie or TV show. Because of this, I have decided to compare and contrast every single streaming service available at the moment in Brazil; I will not be including smaller services within bigger ones because they are not as popular and don't have as much content. From its prices to the content available, let's dive into this fast-changing world of streaming (For your convenience, I have also created a table with all comparisons available at the end of this article for those who do not feel like reading).
Let's begin with the most accessible option available, Prime Video. Costing only R$9.90 monthly, the streaming service gives you access to more than 300 series and over 2 thousand movies from the get-go. By subscribing to it you will automatically also have Amazon Prime, a delivery service that allows you to have free shipping on Amazon purchases and several discounts on their website. Offering a well-rounded experience, their streaming service is one of the best in my opinion. While having access to some classic movies such as Fight Club and Twilight you also have access to over 2 million songs on Amazon Music and Twitch Prime for basically R$10 a month, an amount that would not break anyone's wallet.
Also coming in at R$9.90 per month we have Apple TV+, which is Apple's attempt at staying on top of everything in the technology and entertainment world. While being very inexpensive it only includes Apple Originals and a few other options, which are not very popular movies or TV shows. Some good finds in there are the series Dickinson and Truth be Told, both of which are new and have not gained much popularity. Another good find is Ted Lasso, the new winner of 7 Emmys, which is also an Apple original that is worth watching.
For anime fans, there is Crunchyroll, ranging from R$25-R$32 monthly. With over a thousand animes, doramas, and mangas available, Crunchyroll is the only service that focuses on Asian pop culture. In it, you have the option to watch anything with subtitles or dubbed in a variety of languages. Some of the most popular anime series included are Hunter X Hunter and Naruto, which are only available there, making it a great streaming place for anyone who enjoys this type of content.
Next, we have Disney +, one of the most famous and widely-used services in the world because of its diverse catalog. For R$27.90 monthly or R$279.90 yearly you have access to over 880 movies, series, and shorts ranging from almost all of the Marvel movies to all Pixar shorts. After waiting for a year for its release in Brazil it certainly did not disappoint me. Every time I enter it I find something new or a movie that brings me a lot of nostalgia such as Hocus Pocus or all three High School Musical movies. The service also includes a National Geographic portion, which has many documentaries that tend to surprise everyone with how interesting they actually are, as well as all Star Wars movies and series.
Available only in Brazil, Globoplay ranges from R$22.90-R$49.90; besides its movies and series, you also have access to all of Globo's channels such as Multishow or GNT. While the idea is extremely promising, the actual platform is one of the worst I have ever used. It never seems to properly work; all of its glitches and shutdowns make for the worst viewing experience. However, Globoplay would be a great option for sports fans since you can access all of SporTV's channels and watch multiple sports' past games.
Next, we have one of the newest streaming services that have arrived in Brazil, HBO Max, whose price ranges from R$19.90- R$27.90 monthly. With content from HBO, Warner Bros, DC, Adult Swim, and Cartoon Network, HBO Max arrived with some of the most famous movie series out there such as Harry Potter, Matrix, and Lord of the Rings. They will also be adding Dune and Matrix 4 right after their releases in the movie theaters, which is a great option for people who still do not feel comfortable going out. That said, since it has only been out for a few months, it still has some glitches and problems which HBO is working to solve so they can offer the best viewing experience for their clients.
Last, but definitely not least, we have Netflix, which I believe is the most popular streaming service out there. With its prices going up every few months, this is also the most expensive option, ranging from R$25.90-R$55.90 monthly. As the first streaming service ever created, Netflix has many options in its catalog including lots of original content, including Stranger Things and Black Mirror, which makes it worth it in my opinion. But with many new options being created, Netflix is losing many of its titles such as American Horror Story, which went to Globoplay, or Marvel movies, which went to Disney +. As it has been around for a while it also has brought one of the best streaming experiences for the viewers, with the ability to change the speed and quality of the content being watched.
| | | |
| --- | --- | --- |
| Streaming Service | Prices * | Is it worth it? (my opinion) |
| Prime Video | R$9.90 | Very worth it, with many amazing options for every taste. |
| Apple TV + | R$9.90 | Not worth it, does not have things I am interested in. |
| Crunchyroll | R$25 | Worth it for those who enjoy anime and doramas. |
| Disney + | R$27.90 | WORTH IT. Definitely my favorite option because of its amazing catalog. |
| Globoplay | R$22.90 | Not worth it because of the glitches and the catalog is not that good. |
| HBO Max | R$19.90 | Worth it because of the new releases and movie series. |
| Netflix | R$25.90 | Worth it because of its original productions and quality. |
*cheapest price available
Leave a Comment