Lost and Found: A Collection of Things We Have Lost In Time, And Newfound Discoveries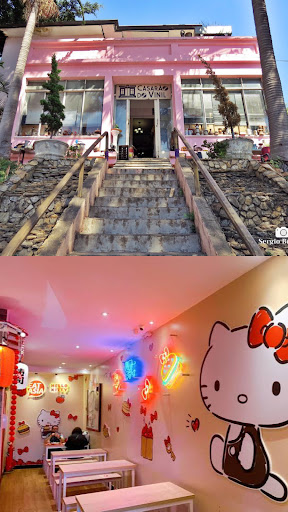 As time goes by, things that were commonly used every day may start fading away because of new technology and information, such as the radio or iPods; however, in this article, you will learn about some of these things that should be brought back to this generation, along with some other things from our generation that do not receive as much attention as they deserve or that are brand new and still need to gain people's recognition. With that being said, here are some examples of objects we could bring back.
Lost:
First, I would like to talk about a place that I discovered through Instagram. The place is called Casarão do Vinil and it is located in Mooca, here in São Paulo. As the name itself says, they sell vinyl records of all genres of music. Vinyl records were popular from the 1950s until the 1990s when CDs became more popular, but have made a comeback since 2017 as listeners want to experience listening to an album from a record player. The place has thousands of products available with all kinds of music, from movie soundtracks to MPB (música popular Brasileira); it has something for everyone. 
When I went there the vendor helped me navigate the big space and find what I was looking for. He is one of the funniest people I have ever met. He judged you off on what you were looking for, and depending on what you picked, he started giving other stuff for free and giving me amazing discounts. I ended up choosing 4 records: David Bowie's Tonight, the soundtracks from Grease and Saturday Night Fever, and ABBA's Arrival record, all of which only cost me R$130 when the original price was about R$250. If you visit,  something I recommend doing is wearing a mask; even though the pandemic is winding down and we might not need them in the future, I would still recommend it for you because the place is ancient and full of dust and cats.
John Hughes' movies
Next, I'd like to talk about the movies that were directed by John Hughes. Hughes was a famous director that wrote, produced, and directed many iconic movies from the 80s and 90s such as The Breakfast Club, Home Alone, Ferris Bueller's Day Off, and many more. I love all of his movies, and they bring me joy every time I watch (or rewatch) them. One example of this is The Breakfast Club. This is a classic that everyone should watch at least once in their lives. The movie follows 5 teenagers that are stuck together in detention on a Saturday, and as the tagline says "it changed their lives forever", and it will change yours too. It doesn't matter how many times I watch it, I will always get emotional as John Bender thrusts his fist into the air as "Don't You (Forget About Me)" by the Simple Minds plays in the background, creating the perfect conclusion to these teenagers' story.
John Hughes' movies provide the perfect balance between comedy and drama that makes everyone cry and laugh throughout the entire movie without ever getting bored, which is why I believe that everyone should watch and talk about him and his creations.
The next item on this list is another place for shopping, but it has an entirely different experience than just going to a mall and buying something. Brechó Vó Judith is a thrift store in Vila Madalena that has vintage outfits for all tastes and budgets. This big and exciting store has thousands of pieces of clothing that range from one-of-a-kind articles that someone has created to iconic designer brands such as Dior and Chanel. As you have the option to buy recycled fashion, you can also help the environment by avoiding the tons of waste created every year by the fashion industry, thus helping your local community. In my multiple visits to the store, I have always found something fun and unexpected, such as vintage corsets and name-brand shoes that I would have never thought of wearing, but seeing and trying them made me fall in love with these pieces. 
So, it does not matter if you are into vintage clothing or retro styles; the store is worth a visit. Even if you just spend your day there, looking around the amazing pieces available, it is an amazing and unusual experience to have in São Paulo.
Found: 
Now let's talk about discoveries I have made that many people may not know about.
Eat Asia is an Asian restaurant in Liberdade, São Paulo's Japantown, that serves authentic Japanese food.  In 2019, it opened a new location but with a Hello Kitty theme to everything in it. The famous Japanese cat's face is in literally everything, from cupcakes to the decorations, and it is the cutest thing ever. They have a diverse menu ranging from  Asian food to hamburgers and sweets, with prices varying from R$5.90 to R$31.90. The sweets are adorable, but a bit on the expensive side. These include bow brigadeiros that are R$6.90 for a single piece, but you can choose which ones you believe are worth the try and your money. My favorite dessert to get there is definitely the chocolate fudge brownie that is just overwhelmingly sweet but delicious.
In my two visits there, I had a wonderful experience where I got to eat delicious food for an affordable price but also have fun with all the cool displays they have showing Hello Kitty's history and story. One thing that many people complain about is the waiting line on the weekends that can extend to an entire block, so I really do not recommend that going at a popular time but rather during the week or at a later time where people would be leaving the place.
Now that the ministry decreed that theatres can go back to 100% capacity musicals, we can hopefully start catching up on premieres that were delayed. One of the most negatively affected areas by the pandemic were these cultural activities that served as the jobs of many, who happened to lose their employment because everything was closed and they couldn't perform. Now that everything is starting to go back to normal, we have to support these artists and enjoy the culture that this city provides. 
Being a theater fanatic myself, I have been excited to see all shows available since their return was announced. Some of the ones that are now on stage are "Charlie – O Musical" which shows the story of Ronald Dahl's Charlie and the Chocolate Factory books, but with multiple songs and dances. The musical is great for kids because of the many colors and fun choreography, but anyone would appreciate it just because of how the actors incorporate the audience into the show, making it very interactive. For the older crowd, there is "Silvio Santos Vem Aí!" and "Donna Summer" that both show the life stories of these incredible people. The Silvio Santos comedy musical contains many people that have been a part of his history such as Hebe and Bozo and tells the story of his career as a TV personality since he was a small child. Donna Summer's musical is a mega-production about her life and tells her story with the songs that she has created throughout the years. The musical contains beautiful dance acts and songs that make you have goosebumps because of how beautiful they are.
In the center of São Paulo, we have this 5 stories tall gallery full of stores and displays for anyone who loves music. Even though the name of the place implies that it is only about rock music, it is the exact opposite. There are hundreds of stores where you can buy vinyl records, T-shirts of your favorite artists, and even shoes that are exclusive to the place. They have something for everyone, and even if you are not that into music, the place is worth a visit just because of how interesting it is. 
With this guide, I hope you all have something new to do on your weekends. Our city hosts so many cultural wonders that you can enjoy in your free time. With that being said, I hope these activities help diversify your weekend plans.
Leave a Comment