Taylor Swift and Scooter Braun's feud explained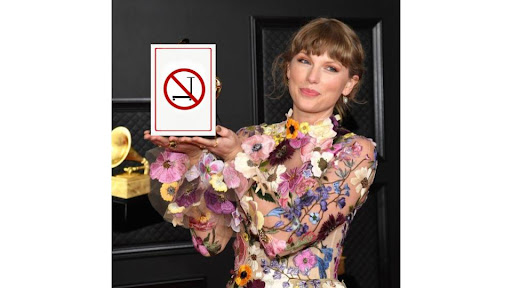 Back in 2004, a 14-year-old Taylor Swift was spotted in the Bluebird Cafe in Nashville, Tennessee, by none other than Big Machine Records' Scott Borchetta. Taylor went on to sign a deal with the label, making her the youngest artist to ever do so. At first, this deal was incredibly successful, with her breakout record Tim McGraw making it to top 40. Flash forward to 2019, Swift has released 6 highly successful full-length albums with Big Machine and yet, she took to social media to reveal her disappointment about the label's new direction. What happened between then and now is a long story, a lesson about the rights of an artist, and a story the Talon is proud to introduce to you. 
As background for the explanation of this highly intricate feud, it is important to mention Taylor's famous feud with Kanye West and his ex-wife Kim Kardashian. The first blip in the relationship between Swift and the rapper occurred in 2009, at the MTV Video Music Awards. Swift won the VMA for the best music video, and Kanye interrupted her speech to argue that Taylor shouldn't have won the award, using the famous words: "Yo, Taylor, I'm really happy for you, I'mma let you finish, but Beyoncé had one of the best videos of all time!" The two made up in 2010 and seemed to be friendly until the feud came to a head in 2016. Kanye released his record Famous, the lyrics including: "I feel like me and Taylor might still have sex / Why? I made that b*tch famous". Kim and Kanye made it seem as though Taylor had approved these lyrics, and Taylor Swift was effectively canceled online. This issue did not only effectively take the internet by storm, but it also raises awareness of the dangers of cyberbullying, which often focuses on the endangerment and sexualization of young girls, who are targeted online twice as much as young boys. These events eventually led to the release of Swift's final album with Big Machine, Reputation. Despite Kim and Kanye's allegations being proved false in 2020, this feud serves as a background for Swift's falling out with Big Machine Records and Scott Borchetta. 
Returning to Big Machine Records, Swift actually announced she would be leaving the label back in 2018, to sign with Universal Music Group's Republic Records. Taylor had attempted to buy back her masters (the original, official recording of her songs) but was denied this right, forcing her into making the tough decision of leaving her first six albums behind with Borchetta – these are Taylor Swift (Debut), Fearless, Speak Now, Red, 1989 and Reputation. The metaphorical rug was soon pulled out from under Taylor however, when famous manager Scooter Braun acquired the label, and by consequence, Taylor's masters. Swift took to Tumblr to express her disappointment with the situation, telling her fans this was her "worst-case scenario" and that "Essentially, [her] musical legacy [was] about to lie in the hands of someone who tried to dismantle it."
Swift felt incredibly betrayed by Borchetta, who failed to inform her that Braun would be acquiring the label. Braun and Swift's issues began many years before, with Swift saying she had suffered from "incessant, manipulative bullying" at Scooter Braun's hands for years. If you're wondering where the Kim and Kanye story fits into all of this, look no further, because here's the catch: Braun was Kanye's manager at the time of the release of Famous. In her infamous Tumblr post, Taylor stated that: "Kim Kardashian orchestrated an illegally recorded snippet of a phone call to be leaked, and then Scooter got his two clients together to bully me online about it. Or when his client, Kanye West, organized a revenge porn music video which strips my body naked." The two clients mentioned here are Justin Bieber, who posted a picture of himself and Scooter on Instagram, with the caption "Taylor [S]wift what up", and Demi Lovato, who claimed Scooter was a "good man" and expressed they felt Taylor was bullying Braun. This was not only seen as disrespectful to Swift's struggle, but it also appears dismissive of the very real dangers of cyberbullying, which is a real issue, impacting approximately 59% of US teens.
So what's the big issue? Well, it comes back to Taylor's masters. Scooter now owns all of them, meaning any other copies of songs from Taylor's first six albums (such as those featured on YouTube, Spotify, and Apple Music) are also owned by Scooter. This means that:
If someone wants to use one of Taylor's songs in a movie or commercial, they must have Scooter's permission and pay him a fee.
 If someone plays that song on a streaming service, all the money goes to Scooter. 
If someone wants to reproduce a record from one of Swift's first 6 original albums, they need Scooter's permission. 
Despite all these challenges, Taylor Swift released her single ME! On April 26th, 2019, making this the first of her masters she legally owned. The song was an immediate hit, taking a direct, 180 shift from her previous works in Reputation. A few months later, on August 23rd, 2019, Swifties rejoiced as Taylor released her seventh full-length album, this being the first she legally owned – Lover. The album had 18 tracks, telling stories of Swift's blooming relationship with actor Joe Alwyn, her mother's breast cancer diagnosis, LGBTQIA+ rights, and issues of feminism in the music industry. Needless to say, the album was a hit, making it number 1 on the billboard top 200 charts within days of its release. 
Oftentimes, successful women are faced with criticism about their character. Taylor Swift is no stranger to this, and expressed her feelings in her iconic song from her Lover album, The Man, singing: "I'm so sick of running as fast as I can/ Wondering if I'd get there quicker/ If I was a man". Swift's entire career has been saturated with criticism based on the topic of her songwriting, as she is a woman who writes her songs primarily for women. Apart from the serial bullying of Taylor in 2017, after her feud with Kanye West, which caused her to completely leave the public eye for over a year, Swift has been criticized for nearly everything: her appearance, the way her body looked when she was deep into an eating disorder, her dating habits, and even her sexual assault. Women like Taylor who are unafraid to express their femininity and share their stories with dating are unfortunately seen as "less than" in society, and makes women feel invalidated for their feelings, which are often dismissed as simply a result of them being "overly emotional". The Talon is sure that most female Graded students have been victims of this belief system plenty of times in their lives, and Swift's feud with Braun serves as a magnified, highly publicized example. In fact, it was just last year that Netflix's series Ginny & Georgia made an incredibly sexist joke about Swift's dating history, saying: "What do you care? You go through men faster than Taylor Swift". Taylor's experience with this brand of bullying is perfectly summed up, once again, in her song The Man, where she sings: "I'd be just like Leo/ In Saint-Tropez". This lyric refers to how men who have quite questionable dating habits and an exponentially larger number of exes are not nearly as criticized as Swift, simply because she is female and they are not, making it incredibly valid for fans to question if Braun felt so comfortable taking Swift's masters as she is seen differently than other artists for being a woman.
Despite the constant criticism, Swift has learned to take the high road by focusing on her music and letting the comments roll off her back, as is best reflected in her song Long Story Short, where she sings: "Your nemeses/ Will defeat themselves before you get the chance to swing". Swift has always expressed herself through song, never confirming or denying what her songs are about. This is brought to extremes when it comes to Braun's divorce and Swift's song Mad Woman. Many fans have theorized this song predicted Scooter's divorce, hinting at the possibility of the feud being based around a vendetta against Swift for knowing too much, as is proven with lines such as: "The master of spin/ Has a couple of side flings/ Good wives always know", which have been linked to Braun's infidelity by fans. Given Taylor Swift's track record of dealing with her personal battles through music, her creative solution to the issue at hand should come as no surprise.
On November 14th, 2019, Taylor Swift made a jaw-dropping announcement, stating she was preparing to re-record all of her albums still owned by Big Machine Records, tweeting: "It's something [she's] really excited about doing because [her] contract says that starting November 2020, [she] can record albums one through five all over again". Though 2020 put a stop to most plans, such as Taylor's tour Loverfest being canceled, Swift didn't slow down, releasing two full-length surprise albums: Folklore and Evermore. 
Swifties couldn't believe their luck, when Taylor re-released her second studio album, Fearless, 13 years after its original release date on April 9th, 2021, making it her fourth album release in just under two years. To distinguish the version of the album owned by her from the one still under Big Machine, Taylor added the label "(Taylor's Version)" to the re-records. Fearless (Taylor's Version) not only includes the original 13 songs, but also 6 "vault tracks", or songs Taylor had written for the album, but had never been released on the original track. Then, on November 12th, 2021, Red (Taylor's Version) was released, with nine vault tracks, 9 years since the original Red's release. 
Swift and Braun's feud not only serves as good entertainment, but the situation also provides an opportunity to raise awareness about cyberbullying, and how young girls and women can stay safe online. Though Taylor had a strong army of fans willing to support her, most victims of cyberbullying are not famous and are left to deal with the issue alone. That said, experts from Charity Childline advise teenagers to keep personal information offline (including one's school and/or place of work) and to block any users who behave inappropriately. Moreover, teenagers should never retaliate against any form of cyberbullying or repost it, instead, it is wise to report the issue to trusted adults, such as Graded's socio-emotional counselors. 
Though Taylor Swift's custody battle over her tracks is a long, confusing story, we at the Talon hope this article's breakdown helps you understand the drama a little bit easier. That said, it is advisable that every Swift fan keeps an eye out over the following months, as Taylor is yet to announce what her next re-record will be, and as seen through Folklore and Evermore, it's possible that the next release will come as a surprise. Fans have speculated (with the use of extensive evidence) that the next release could be either her third studio album Speak Now, or her fifth, 1989. 
Sources:
BBC , Berklee , Billboard , Cosmopolitan UK 1 , Cosmopolitan UK 2 , DataProt , Popsugar , Refinery29 , Rolling Stone , Tennessean , Time , Vox , UD Review , University of Toronto
Leave a Comment