Matthew Dicks visits Graded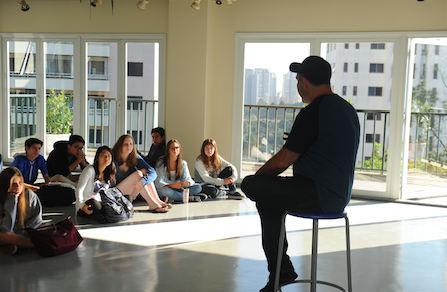 Matthew Dicks, the author of the novels "Memoirs of an Imaginary Friend", "Something Missing", and "Unexpectedly Milo", visited Graded. Currently, he is teaching 5th grade, but writes books on the side, which explains the moral from his presentation: there is nothing better than creating content and gaining "passive income" from that. He quoted, "being an author is one of the best careers because you can obtain money, friends, a great spouse, and attention. If you're an author and don't have those, then you have a serious problem."
He addressed how every single story you hear, is only about 5 seconds of a person or character's life. The story could go on, either for 10 mins, or 500 pages, but it's ultimately  only 5 seconds of a life that hits you hard. Although, stories seem to be truth pulled from one's life, Dicks argued that there are 5 lies allowed in stories:
Lie of compression → shirting time together such as Monday and Tuesday as a day

Lie of omission → omitting/excluding certain facts

Lie of presumption → accepting that something is true even though it hasn't been approved

Lie of progression → changing the order of the moments

Lie of conflation →  making a bigger deal out of nothing such as putting all the motion into one moment
Tying into his nature as a teacher, Matthew gave the student body a homework assignment for life. He said that this assignment was given to thousands of people, yet only 12 people actually complete it. The homework assignment is as follows: Every night before going to bed, sit down and ask, 'if I had to tell a 5 minute story, what story would I tell?'
Once it comes to mind, write it down.
After a month of doing so, send him an e-mail: [email protected] and your reward will be a message saying: "Congratulations, you don't suck!"
Leave a Comment