Green Reminiscing
Graded soccer players have played their last games on the traditional green field next to the Student Center. The field,  which Graded had cherished and used in all sorts of sporting and cultural events for around fifty years, exemplifies the school's dedication to cultivating well-rounded students. As many in our community know, the old field is currently being demolished as part of the Graded Campus Project. A new field will eventually replace it, but for seniors and perhaps other high school students, these last games were a farewell to a staple that helped shape their formative years.
Gabriel (Gabs) Estrada (Spectator, 11):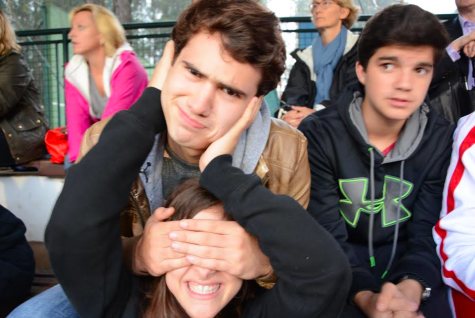 YeJin On
Talon (about half way into the girls' game): So how's the game?
Gabs: It's been pretty good. I like how the team is handling the pressure, since it's the last game on the home field and since they tied the last game during penalties. They need to win this one in order to have a chance at winning the League.  
Talon: How is the spirit today, considering it is the last home game?
Gabs: I think the spirit is very good today, since it is the first girls' soccer game that I've ever come to and there are so many people in the crowd. Normally, it's pretty empty, so it's nice to see everyone here supporting them.  
Talon: And how are the cheerleaders doing today?
Gabs: They're doing well. It's also rare to see them at a soccer game and they're screaming much louder than they normally do. Then again, there are seventeen of them when typically there are around eight, which is a huge jump.
Tamima (Mima) Levinsohn Mourad (Cheerleader, 12):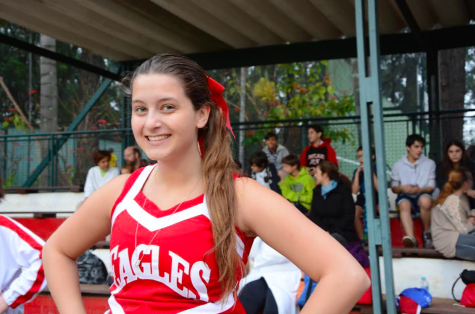 YeJin On
Talon: If you could say anything to the athletes right now, what would you say?
Mima: You need to enjoy every second of the moments you have on the field or on the court (if you're a cheerleader, on the side of the court), since you never know what is going to happen next. If you get hurt, if it's your last season. You need to try yourself, since it's not about you. It's about the team. The more effort you put into teamwork and dedication, the more everyone benefits.
Talon: Do you have any favorite memories on the field?
Mima: I've tried all sports at this school and my favorite memory was when I was playing soccer and it was my last season in Junior Varsity Soccer with my sister, Nabila. During this season, she scored a goal. I was playing defense and she was midfield. She looked at me and started running in my direction, saying, "This goal was for you," and that was our first and last season together, since now she's in college and I miss her.
Talon: How do you feel about the renovations happening on the field and is there anything that you'll miss especially about the field?
Mima:  It's personally very hard for me since I grew up at this school and I remember that when I was younger coming all the way to the field was like a field trip for me. I remember having picnics and so many different activities here. It will be hard graduating without the field, because I've always known the school with it. But, hopefully my kids will study at this school and gain all the benefits from the renovations.
Catalina (Catu) Berretta (Varsity Soccer, 12):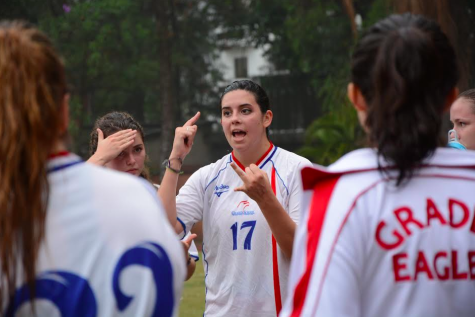 YeJin On
Talon: What is your favorite memory about playing on this field?
Catu: Probably, winning the league last year  I was with the seniors (Class of 2015) at the time who I'd grown up playing with. It was a just a really special team to me, since we worked so hard and played with so much passion. That was probably my favorite memory: winning on this field with a team that was with me ever since I began playing, up until now. It's hard to forget something like that.
Talon: Are you going to miss playing on this field, since you can't make those same memories?
Catu: Well, I can make new memories anywhere, especially since I'm going off to college at the end of the year. But, I will miss this field in the sense where this field has seen me win and lose. It's been my home for the past five years, it's where I've learned to play.
Talon: How did it feel to play on the field one last time?
Catu: Pretty nice. It's one of those situations where it hasn't hit me yet, that this was the last time I am going to play on this field. I'm happy about how I played, and how the team played. Of course, I'm a little sad with the score, but I'm satisfied with this final game.
Talon: Was the intensity of Graded spirit elevated today?
Catu: It was really nice to have all the cheerleaders, cheering in the background. Normally in soccer, I get used to having only the team watch me (unless I'm at Big 8), so there isn't a lot of pressure. Being a competitive person and having people watch me actually makes me perform better, so I love it.
Talon: What message would you hope to send to future athletes that will play on the new field?
Catu: I would say that for all the pain that sports have caused me, there is double the amount of joy and personal growth. It sounds really cliché, but it's true. There's nothing like being on the field, with your team, playing your game. Losing is horrible, but I'd rather be losing with my team than not playing at all.
Leave a Comment