Talon Tunes: Desert Island Edition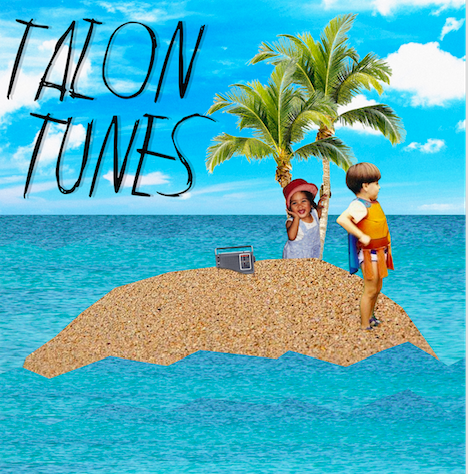 If you were stranded on a desert island and could only bring one album, what would it be?
Kira Quesnell (Grade 13): "The Lonesome Crowded West" by Modest Mouse
Arresting in both sound and theme, "The Lonesome Crowded West" is arguably one of the best indie rock albums of the 1990s. It is a beautiful and melancholic tribute to the rapidly changing landscape of the American West. This is Modest Mouse at its best – the original trio – complete with Brock's lispy lyrics, Judy's atmospheric bass, and Green's wildly intuitive drumming style. With tracks like "Heart Cooks Brain" and "Trailer Trash," I could listen to this album again and again, and again.
Luis Wolfrid (Grade 11): "Turtleneck & Chain"  by The Lonely Island
If you're lonely on an island, perhaps the best band to listen to would be The Lonely Island. It'd cheer you up, I guess. With all those coconuts and sand, maybe a listen to "Jack Sparrow" would inspire you to sail the seas.
Faria Nasruddin (Grade 12): Let's face it: I won't win an episode of Survivor or Naked and Afraid. On a desert island, I'd probably have a hard time finding food and an extreme wave of loneliness would wash over me. For this very reason, I'd have to bring an album that would help me channel that survival instinct (without going mental). Sinkane's album "Mean Love" would do just that.
Gabriel Estrada (Grade 11): Although he doesn't have an album yet, anything by the Norwegian Tropical House god Kygo will suffice. His tunes are incredible–they'll never tire me. Although, the more obvious reason is that he plays tropical house.
Daniel Felberg (Grade 12): "Buena Vista Social Club" by the Buena Vista Social Club
With this album, I'll at least have music to match the climate, but if it were an island in the Tundra, then "The Secret Life of Walter Mitty (Music From and Inspired by the Motion Picture)" by José González would be more appropriate, since I'd want my thoughts to be just as cool as the climate.  
Martina Gil (Grade 9): Any album by Hozier, perfect to relax on the beach and His songs are extremely calming.
Gabriel Civita Ramirez (Grade 12): Aphex Twin's most recent album, "Syro", uses a whopping 138 pieces of electronic equipment. His first full-length album, "Selected Ambient Works 85-92", kept it simple – that's what made it so special. Pitchfork calls it "among the most interesting music ever created with a keyboard and a computer," while Warp Records refers to it as "the birthplace and the benchmark of modern electronic music" and FACT Magazine hails it as the best album of the 1990s. Upbeat and yet weirdly soothing, "Selected Ambient Works 85-92" would prevent me from losing my sanity in a deserted island.
Lucas Valim (Grade 12): I would bring Weezer's Green Album. Then I could just relax all day on an Island in the Sun, cook some Crab, and listen to "I'm my Hash Pipe." All together would put a huge smile on my face.
Todd Daniel (Grade 13): ANI DIFRANCO's Living in Clip. Awesome live music album of danceable, sing-along  songs with heart. For folk music with an attitude, nobody does it better.
Kaan Alptekin (Grade 12): Acid Rap by Chance the Rapper. Chance is just fantastic and every song is infinite.
Bernardo Santos (Grade 12): Legend- Bob Marley & the Wailers. On a desert island, most people would probably go insane. To avoid this, I'm going to kick back and relax with some Marley.
View Comments (1)