Did Jimi Hendrix Father Modern-Day Rock and Guitar Play?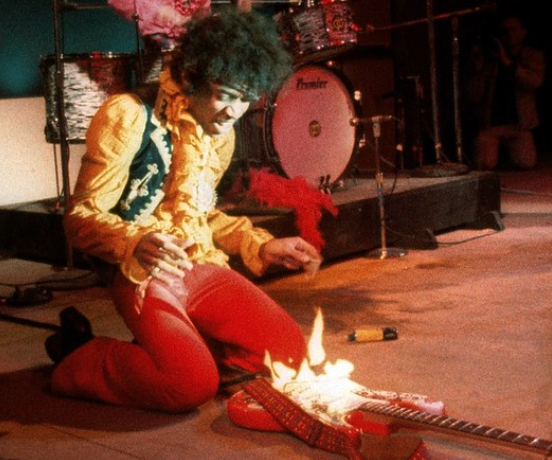 As Jimi Hendrix lit the fuse and burnt his $5,000 dollar guitar, he immortalized his lively flame into the world of rock and roll. The year was 1967 and Jimi Hendrix, after 9 months of exile, debuted in America at the Monterey pop festival. There, he figuratively and quite literally set the iconic Fender Stratocaster on fire during his grand finale: the greatest guitar performance in history. 
Hendrix picked up his guitar for the first time when he was 15 years old. However, he only made a name for himself after he was discharged from serving in the army. He started playing in backing bands and small bar gigs. Then, in his early twenties, he met his manager — a retired bassist who believed in Hendrix and decided to build a band around Hendrix so he could properly exploit his talents. Jimi played in multiple bands and trios throughout his career but has always remained a stand-alone star, finally reaching his peak at the Monterey pop festival.
Decades after the Monterey pop festival, the feeling of that night remains untouched. In the 90s the Rolling Stone published an article outlining how"it was the ultimate in mind-blowing rock & roll spectacle, a brilliant grandstand play by a consummate psychedelic showman well-schooled in the show-stopping high jinks of great rhythm & blues entertainers like T-Bone Walker and Little Richard."  Years later, in 2005, Hendrix was inducted to the rock 'n' roll hall of fame.
In his first major Rolling Stone interview, Hendrix went on about how "the wah-wah pedal is great because it doesn't have any notes." For those of you lost in this music terminology, the wah-wah (an onomatopoeic word) is an effect on the electric guitar mostly used for altering the tune of musical notes for funk or blues. 
This idea is important to keep in mind for those interested in playing one of Hendrix's songs. You search the chords, seeking to mimic the great guitarist and master his style. As you begin, however, you quickly notice his sounds cannot be replicated. This feeling is universal: Hendrix's playing is inimitable. 
A known fact among producers that Jimi Hendrix would almost never compose his songs into sheet music. The chaos and lack of structure that came with this was his infamous trait amongst his producers.  Hendrix's reasoning was that instead of memorizing his songs, he would improvise them in every live performance. This meant that each time he played, his songs sounded different. 
In an interview for the launch of his trios brand new album, The Jimi Hendrix Experience, Mitch Mitchell, Hendrix's drummer, noted that "Hendrix preferred to teach his new songs to me and Redding right before we recorded them… there were no rules on that stuff… There are many things that were just done in the studio, created in the studio, written in the studio, played once, and never played again – onstage or anywhere else." 
Jimi Hendrix was unlike any musician before him and all who came after him. He revolutionized the art of rock and roll through improvisation. Those lucky enough to attend one of his concerts would have had a one of a kind experience: a performance that would be heard by no one else. 
Many argue that Hendrix is the greatest guitarist to walk on this planet —above names like Eric Clapton and Chuck Berry. Some say he was ahead of his generation, while others argue his psychedelic nature led to nothing other than drugs, death, and depression. Nevertheless, it is undeniable that Hendrix inspired generations to come of psychedelic and improvisational rock bands, including Pink Floyd. Even if Jimi Hendrix was psychotic at nature, his guitar play influenced generations to come of rock and of improvisational guitar play.
Sources:
Leave a Comment